As a web developer a common problem I see are sites that are not regularly backed up, updated and secured. Whether you built the site yourself or hired a developer you still need to maintain your site. Learning to maintain your wordpress site keeps it safe from hackers and keeps it running smoothly.
Why is maintaining my site so important?
Your site is composed of WordPress, a WordPress Theme, multiple plugins, a database, content and images. WordPress is constantly improving. That is a good thing. So when they release a new update you need to activate the update. Some hosts do automatic updates. I don't recommend that because an update could break the site if your theme developer hasn't created an update to maintain compatibility with WordPress.
Scary, right? So what do you do?
How does maintaining my site keep it safe from hackers?
Many of the updates to WordPress, themes and plugins are securing updates. A plugin you are using could have a backdoor that hackers have discovered. So the update is usually one that fixes this vulnerability. Sucuri is a site that specializes in detecting malware and fixing infected sites. When you run a sitecheck on their site they warn you if your WordPress is out-of-date. They consider this a very important thing in keeping your site safe from hackers. Take it seriously.
Steps to take before updating WordPress
Check with the theme developer to see if there theme is compatible or if they released an update. You should always make sure your theme has an active registration so that it is easy to update.
Check all your plugins to make sure they will still be compatible after the update. You can find this info on the plugins page by clicking the details link.
Backing up your entire site before you update anything
Once you have determined that all the updates will play nice together, back up your site. I highly recommend UpdraftPlus. They have a free version that will allow you to schedule regular backups. Should something go wrong after your updates they have a "Restore" button that will turn back time and restore your site to the version before the updates. this plugin backups EVERYTHING, WordPress, Database, the entire wp-contents folder, and all your uploads (images). They also offer a clone for a small fee and you can test all your updates on the clone before you do it on the live site. This is a great option. No surprises.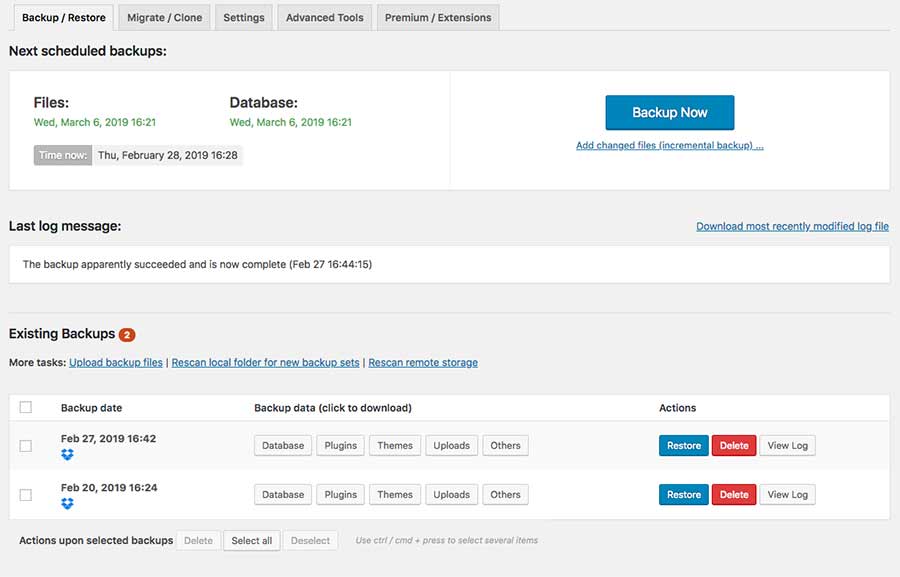 Starting your updates
Update your plugins first and test that your site is working properly
Update your theme and test again
Update your WordPress install
Thoroughly text your site to make sure everything works and that your site looks like it did before
Don't wait too long to make your updates
I will admit that I don't always do the updates the minute WordPress releases one. I wait only if it's a major update. So how do you know if it's a major update, the first number changes. ie Version 4.9 to 5.0. For updates like 5.0 to 5.1 I never wait. It is safe to update.
On major updates I wait to see that the theme and plugin developers are up to speed with the new version. That usually is within a week. If your theme and/or plugins are not updating for compatibility, it may be time to make a change. Some plugins are abandoned by the developers and you should consider discontinuing and finding a replacement. Changing the theme is much more complicated so you should contact your web developer.
Consider a maintenance plan
Here at Clifton Design Group we offer WordPress maintenance plans. A maintenance plan will include everything I mentioned in this post and can include content updates as well. Contact CDG today to learn more about our WordPress maintenance plans and our other internet marketing services.
Let us handle the tough stuff. Inquire today to hire CDG to do your WordPress Maintenance.